Podcast: Play in new window | Download
"Stand Athletic" And Shoot Lower Scores
With True Length Technology!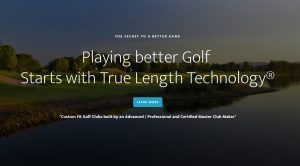 Welcome to Episode 81 of The Golf Improvement Podcast! Dedicated to bringing you useful information on custom club fitting, short game improvement, and effective practice techniques to Take YOUR Game To New Heights!
Show Notes:
Podcast interview with Dan Connelly – Dan's Custom Golf Shop in Hampton, Ontario, Canada – and inventor of True Length Technology.
Dan discusses how he first became interested in true custom club fitting.

He tells us what lead him to develop the True Length Technology (TLT) club fitting and club building process – and describes the "A Ha!" moments he had in developing TLT.

Dan discusses the main benefits of TLT – in particular for longer irons and hybrids, and for short irons.

He talks in particular about how the TLT process can help golfers who need longer clubs, and women and junior golfers who need shorter clubs than standard.

Dan walks us through what a TLT fitting looks like in his shop.

He shares some of the most satisfying success stories for golfers who are playing with custom fit TLT club sets.

Finally Dan provides some Final Words for golfers to help them play their best!
Great information Dan – thanks for sharing it with us!
Useful Web Links:
To learn more about Dan Connelly, Dan's Custom Golf Shop, and True Length Technology – Click HERE!
Club Fitting – NOT Club Selling!
Tony