2015 Golf Trip – Day Five
Ah, Some Difficult Lessons!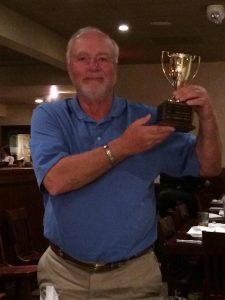 Congratulations to my buddy and roommate Jack Bagocus – the winner of our annual Golf Trip Cup for best total net score for the last 3 days of golf.
My golf was not close to stellar today – started out OK with 42 on the front nine but 48 on the back nine – with 5 double bogies including 4 on the last 4 holes. Ouch! And I let "score" get in the way of "play."
We played a neat old-style course, Ocala National, today. I simply could not hit good bunker shots, and had 5 double bogies from bunkers.
But I believe there are two good lessons I learned from my play today, that hopefully I will remember in the future:
First – if there is a shot that you are having trouble hitting – it makes it worse to get upset with yourself in the course about that. Decide to work on technique later, and do not let your shot performance affect other parts of your game,

Second – if for example you are having issues with bunker shots – do your best to not hit shots into bunkers! On 2 of the last 4 holes I could have laid up a little short of bunkers instead of attempting "hero" shots – smart course management.
One more golf trip day, then home. Let's see if I can keep these lessons in mind tomorrow.
Taking YOUR Game To New Heights!
Tony