2015 Golf Trip – Day Four
Pink Ball Day – What, Pressure?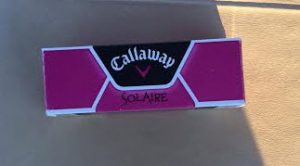 Today we played at Stone Creek Golf Course in Ocala, and it was "Pink Ball" Day. Each golfer in a foursome has to play the "pink ball" every four holes, and their score counts no matter what. Very windy conditions today.
I played the pink ball 5 times, and I think my net score with it for the five holes was 4 over par. Not exceptional for sure. But if I had done this in the past, I would have beaten myself up about not doing well and that would have affected the rest of my game. Today I did not let any missed shots keep me from enjoying my golf round.
I shot 43 – 41 today – 84. I drove the ball well today, and putted much better than the other 3 days. I hit two poor bunker shots that lead to double bogies.
My best shot of the day was a pitching wedge from the edge of the water on a par 5. I hit a drive that I thought was in the middle of the fairway but it rolled to the right and almost went in the water. I big-time concentrated on hitting a good wedge shot to get back to the fairway, and made par on the hole.
Tomorrow is our last day in Ocala – we play Ocala National which we have never played before, and it is supposed to be challenging. Should be fun!
Taking YOUR Game To New Heights!
Tony