Information and Purchase Links to My Favorite Short Game Improvement Books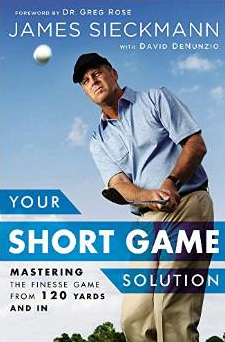 Your Short Game Solution: Mastering the Finesse Game from 120 Yards and In
James Sieckmann has written a book to help all golfers improve their short game. It includes "how to" technique for improving your finesse wedge, bunker, and distance wedge shots. Where it is unique and valuable is that it also discusses how to practice to master these shots. It is an excellent, comprehensive book on how to improve your short game!
About the Book
Supported by state-of-the-art motion analysis research, "short game guru to the pros" James Sieckmann unveils his "finesse wedge" swing — a proven and pragmatic way to learn, practice, and perform with each wedge in the bag in every situation — and shows players that upgrading their short game is possible.

Since James Sieckmann first revealed his short-game methods two decades ago, he has amassed a cultlike following of more than seventy PGA and LPGA Tour disciples and has been dubbed the "short-game guru to the pros" (GOLF Magazine). Using his system, sev­eral of Sieckmann's students have become some of the best short-game players of the modern era. A two-time winner on the PGA Tour jumped 117 spots in the Sand Save rankings in one season; another client quickly jumped 81 spots in Scrambling percentage.

In his long-awaited first book, Sieckmann opens up his vault of secrets for all golfers. After breaking down the basics, he presents a session-by-session training and practice guide—the same one he creates for his tour clients—to help the reader develop and sustain correct habits, avoid common flaws, and master essential skills. Next, Sieckmann explains how to optimize a player's wedge swing for every scenario. An easy-to-learn and easy-to-use system, Your Short Game Solution will be the go-to guide anywhere golf is played.
Disclosure of Material Connection: All of the links in the page above are "affiliate links." This means if you click on the link and purchase the item, I will receive an affiliate commission. I am disclosing this in accordance with the Federal Trade Commission's
16 CFR, Part 255
: "Guides Concerning the Use of Endorsements and Testimonials in Advertising."