Day Three – Bigger Than Ever!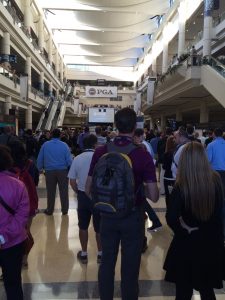 Today was the actual Day One on the exhibit floor at the 2015 PGA Equipment Show. I am pretty certain there were more people here today than at any of the other 4 times I have attended the Show.
Here are a few short highlights of things I saw at the Show today:
Greg Rose of the Titleist Performance Institute gave an excellent talk about the importance of flexibility to create a good golf swing. We all did screening tests for ankle, hip, spine (top 3 in importance to golf he said), shoulder, and wrist flexibility. He also talked about strategies golfers can use to compensate for some of their flexibility issues. Any golfer who is serious about playing his best needs to have a TPI flexibility screening done;

While I visited a number of other booths, the ones I was most interested in were for the Rotex Flexibility machine (I plan to buy one), the Redzone Scoring App (pretty neat way to track your short game improvement), the Skypro (from SkyGolf) 3D motion sensor, and the Game-inGlove golf training aid (it includes a laser attached onto a golf glove, I ordered one);

For Rotex, Redzone, Skypro, and Game-inGlove, I was able to do some short audio interviews about the benefits of each – I will publish these in a Podcast sometime early next week.
Web Links:
TPI Flexibility Screening Tests – Click HERE!
Rotex – Click HERE!
Redzone Golf Combine – Click HERE!
SkyPro – Click HERE!
Game-inGlove – Click HERE!
Taking YOUR Game To New Heights!
Tony