Being Inspired By "The Long Ball!"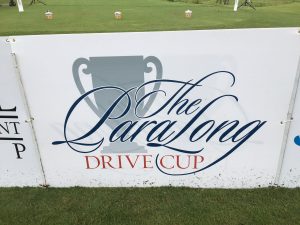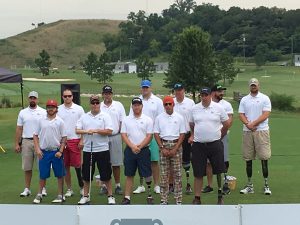 My son David – an Orthopedic PA at the Athens, GA Orthopedic Clinic, gave me a pretty inspiring present last week. He connected me with a friend he collaborates with – Steve Ehretsman, the founder of Shamrock Prosthetics in Athens – who would be competing in the ParaLong Long Drive Cup in Knoxville on July 11.
The ParaLong Long Drive Cup competition was founded by Dean Jarvis from Maryville, TN. It was originally an amputee long drive competition, that has been expanded to include blind, paralyzed, and traumatic brain injured athletes. I believe this was 10th year of this event in Knoxville, and it was held at the Univ. of Tennessee Mack and Jonnie Day Golf Facility.
The picture above is of the 12 contestents in the event. They each hit 4 rounds of drives, 6 shots each round. Longest drive wins – in each of a number of competition categories.
It was an AWESOME day of watching golfers who love to hit the golf ball as far as they can! In the main competition, two of the competitors tied with 334 yard drives, and had a final playoff round to determine the champion. There was a group of one-armed golfers who hit their best drives in the range of 200 yards.
I was honored to get to watch these guys compete. It is going to be fun to see the future of this event – and hats off to Dean Jarvis for his vision and commitment to making it happen! The tag line for my web site is "Taking YOUR Game To New Heights" – well, today I got to see 12 golfers who do THAT! (And Steve says watch out for him next year!!)
Taking YOUR Game To New Heights!
Tony