Consistent Center Contact Is A Goal
For Every TRUE Custom Club Fitting!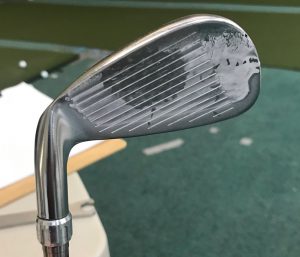 "Hey Tony, Look At This!"  Saturday I did an iron fitting with a very pleasant 79 year old golfer who has been frustrated about his clubs and his golf game.  We were in the middle of testing with a number of club combinations – when we tested with an Alpha HIMO Response iron head and a Wishon S2S White Hybrid shaft. And then his response.  Right then, we had a good sense that we had found the best combination for him – and after about 45 minutes of testing other combinations, I knew we had.
Using hybrid shafts in irons tends to help create a little more launch and often more distance for golfers with slower swing speeds.  This golfer picked up about 9 more yards of distance, 4 more yards of ball speed, 2 more feet of maximum shot height. But ESPECIALLY created irons that also felt good to hit.  Center Contact Does That!!
You can (surely you long term readers know this!) can test your iron contact easily when you practice using Dr. Sholl's Foot Powder.  Center Contact is what true custom fitting does – and this golfer is VERY HAPPY!!
I Create EXCEPTIONAL GOLF CLUBS
You Shoot LOWER SCORES!!
Tony