Sometimes – You Just Gotta Chill Out
To Be Your Best!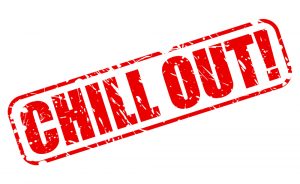 The big piece of advice that Steven Yellin gave at the end of our Fluid Motion Factor podcast interview was for golfers to Chill Out! This is one of those weeks where, quite frankly, I have not had much time to create this blog post – but still hope you get something of value from it!
This week in Oak Ridge we have the Annual Lunch 4 Literacy, a fundraiser where our Oak Ridge Breakfast Rotary and Altrusa service clubs bring in a speaker and raise funds to support School Literacy Projects. I am the co-chair of this event this year, and today and tomorrow are CRAZY busy – for a great cause. 400 plus attendees, lots of details to attend to. Simply have to stick to ensuring that this event is a success.

ALSO THOUGH – about a week ago I listened to a great Dr. Bhrett McCabe Mindside Podcast interview on The Psychological Aspects Of Injuries. Well worth spending 20 minutes of your time listening to. A few days after listening to this, I was standing in my kitchen, and "somehow" felt a little twinge in my right shoulder. Since then, not sure if I really have some type of injury, or just a strain.

Now – in about 9 days we go away on our annual golf trip. Do I try to play golf sometime the next few days ahead of the trip, or do I rest? I mean, what if my game is not in great shape? I think Dr. Bhrett would say I need to take it easy and give my shoulder the best chance to heal.
So – Time for ME to CHILL OUT! So back with you next week for a great podcast interview (that I already have completed recording!).
Taking YOUR Game To New Heights!
Tony