Golf Improvement Self Discovery:
More FUN + Lasting Improvement!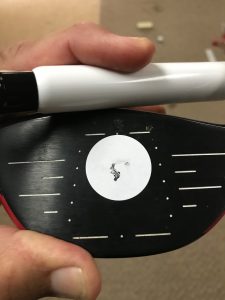 My good friend Brandon Horvath (UT Turf Pathologist and life-long golf lover!) actually said "Self Discovery Is The Best!" this past week on Twitter.  He was referencing some terrific improvements he made recently in his short game.  And another golfing friend, Juan Gutierrez (author of Make More Putts) told me recently about some self learning he did that helped HIM make significant improvements in his short game. Both of their improvements – and some learning I had this past week – were the result of using their golf practice to promote Self Discovery!
For me – I recently built a new Wishon 919 driver for myself – 11.5 degree loft, 1 degree higher loft that my previous driver.  I was curious about what my shot impact pattern would be with this driver.  So – see picture – I experimented with using some 1 inch sticky dots on the face, and had to use a non-permanent marker dot on the back of the golf ball to get impact to show on the dot.  
All of my initial contact marks on the club face were well inside of the center.  Hum – surprised.  I made a few club and swing mods – and with a small change to my swing (actually doing what I have been working on in my swing) – center impact! About a half hour of fun effort.
For me this kind of Golf Practice is both more fun but both more beneficial to help me make game improvements that will STICK.  So just a couple of thoughts if you are looking to use the practice tee to help improve some area of your game….
Find A Task That You Want To Achieve.  Like for example, making center face contact – or varying where on the face you make impact.

If you do not achieve the task right away – attempt different approaches to achieving the task – and see what happens – AND allow yourself to be open to different alternatives to achieving the task.

Be Patient – but do not be surprised if "somehow" you come up on your own with a way to achieve the task and create improvement!
Bringing YOU The Custom Club Fitting Experience
Of Your Life – AND Lower Scores ALWAYS!
TONY