Some "Shoot Lower Scores" Golf Wisdom
From Richie Hunt's 2017 Pro Golf Synopsis!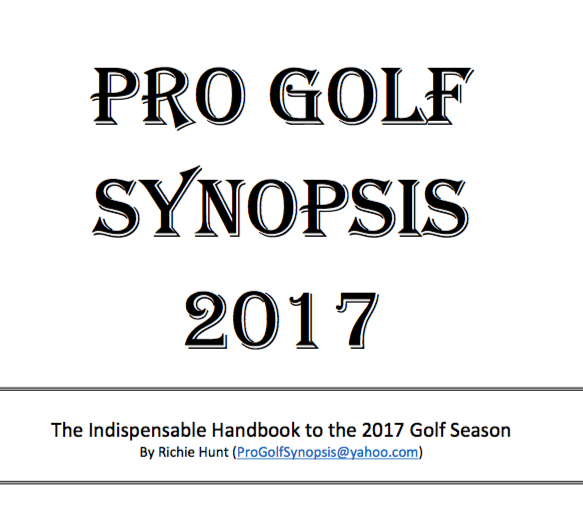 Richie Hunt – a golf stats guy who writes a yearly "must buy" Pro Golf Synopsis ebook – recently visited David Orr at the Flatstick Academy – and they posted a terrific stats-filled video on the by-subscription Flatstick web site.  Alas, I do not think it is right to quote the things they talked about in the video.  But it IS ok for me to go back to the 2017 Pro Golf Synopsis and share some small words of wisdom that Richie noted in that document.  So here you go!
Let's start at the top for the average golfer!  Richie believes that the "Golden Rule" for golfers deciding which club to use for a shot is to base the decision on the results for their average swing.  He believes that better players (less than 5 handicap) often base their club decision on their poor swings, and higher handicaps often make their decision on the "best swings they might make once a year."

He notes that Tour players are more likely to 3 putt than to 2 putt for putts longer than 32 feet.  AND that the probability of making a 32 foot putt is only 6%.  So for most average golfers, attending to 2 putting from distances longer than 30 feet is priority #1.

A fascinating piece of information is that Tour players do not consistently get 20 to 40 yard pitch shots close to the hole (no matter what you see on TV!).  So job #1 for average golfers is to get their 20 – 40 yard pitches on the green, and if they do so they will reduce double and triple bogies.

Richie's analysis shows that – for shots from 125 to 175 yards – average Tour players will hit shots from the fairway to within 28-1/2 feet of the hole, and from the rough to within 42-1/2 feet of the hole.  Similar shots from average Tour players from 175 to 225 yards of the hole will be within 36 feet of the hole from the fairway, and within 56 feet of the hole from the rough.  So for us mortal golfers – it REALLY pays to hit your approach shots from the fairway!

Finally – that old standby metric of "Putts Per Round" – well, it simply does not tell golfers much about how well they are putting. A much better metric to determine is "Strokes Gained Putting" for a round.  HOW to determine this – well, a little more complicated that I can get into in this post (but will in the future).
Hoping some of these insights help you!  I know Richie is hard at work on the 2018 edition of the Pro Golf Synopsis.  I promise to let you know when it is available – a great read for golfers who are serious about Shooting Lower Scores!
I Create EXCEPTIONAL GOLF CLUBS
You SHOOT LOWER SCORES!
TONY