Daily Reports On "How I Played!"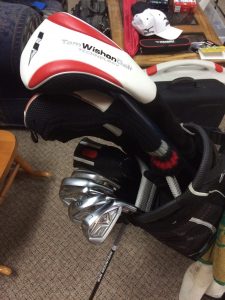 Starting this Wednesday, I am going to Georgia and Ocala, Florida to play golf for 6 days with a group of 18 golfing friends. Always great fun!
My golfing performance on these trips has left "something to be desired" in the past. I get too hung up on results – but not this year. This year I plan to "put my money where my mouth is" and focus on process, improvement, learning, having fun – and seeing what happens. My focus will be on these five areas….
Picking a target for each shot,

If I don't hit a shot well, evaluating the result and learning from it – and then letting go,

If I do hit a good shot inside saying "yes!",

As my friend Mike McFadden says "Drink The Champagne!" if I score well, and

Having fun no matter what happens.
I will send a brief "Mini Blog Post" each night – starting this Wednesday night – about what happened in each golf round. I will talk about how I performed related to each of the five areas of focus I noted above, how I scored, and what I learned that might be of interest to you. You might – if interested – look for the Mini Posts sometime around 9 pm each evening on my web site.
I will then "wrap things up" with a Podcast next TUESDAY (not the normal Monday, since we are playing and traveling home next Monday).
Wish me well! AND – provide any comments BELOW on other areas I can address to have the most golfing fun this week!
Taking YOUR Game To New Heights!
Tony