Use A "Nerf Dart Putting Aid" And Improve
Your Indoor Putting Practice!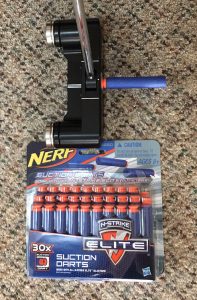 My Jefferson GA grandsons – Emerson and Madux – love to pelt me with Nerf Darts when I visit them – all great fun. But now that I have learned I can use these for putting practice and improvement…
One of my favorite putting improvement resources is the David Orr Flatstick Academy subscription web site. David does at least one (often more) post each week that helps me to learn more about putting improvement. The site is an amazing putting learning resource.
David recently did a video post where he talked about how he teaches new golfers to putt. And that is where Nerf Darts showed up! He stuck a dart on the face of a putter – and wow what a simple training idea! You can immediately see where you aim your putter, and can also see how the face of the putter moves as you create your stroke.
To me Simple is often Most Effective. So, particularly if you are looking to do some indoor winter putting practice and improvement – buy some sticky Nerf Darts (or steal them from your grandkids?). Put one on the face of your putter, check your aim and confirm that you are able to correctly aim your putter at address. And maybe do this 3 feet, 6 feet, 10 feet away from a simulated indoor target. Do this once at each location, maybe 2 or 3 times. Total time spent – probably less than 5 minutes. But an effective way to practice putting aim at address.
Thanks David! (And watch out, Emerson and Madux…)
Any Simple Indoor Practice Aids That YOU Use? – Please Comment And Share!
Taking YOUR Game To New Heights!
Tony