Let's 

Say

 "Not Yet Golf!"
YOUR Best Golf Is POSSIBLE!!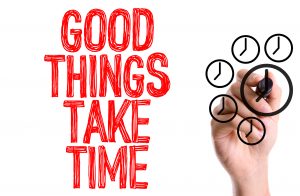 It has been 3 months now since my prostate surgery, and (thanks Diane!) I had a wonderful 70th birthday party this past weekend.  BUT I also had a really good golf "kick in the teeth" this past week.
This past Tuesday, I played for the 2nd time since my surgery.  I wanted to walk 9 holes, and ride 9 holes.  After about 7 holes I started to get really tired, and by the 10th and 11th holes I pretty much could not hit any good golf shots.  So I stopped playing for the day.
This Was A Really Great Result!!  Because now I know I messed up by not doing a lot of exercising the month before playing again.  
I am not ready to play below my potential. SO – here are a few things I did this past week – and the past few weeks…
First I started walking daily, and I joined Planet Fitness this past week.  And I started eating a more healthy diet. 

In the past month, I decided it was time for a putter change (I have played with the same putter for about 7 years).  I used some of the knowledge I have learned from my friend 

Bruce Rearick

and his putter fitting process to find a putter that is a good match for my inside-to-outside putting stroke.  And I did find a great one – the Cleveland Golf Huntington Beach 10 Mallet putter.  Scott Sikorski, head of custom fitting at Srixon / Cleveland Golf XXIO (a good friend) helped me get this putter – and I love it!
I also decided it was time to put a new 56 degree sand wedge in my bag – and so I am now playing with the Miura K-Grind 2.0 Wedge.  I bought this wedge particularly to use for my sand game (which is improving, but the new wedge will help).

Finally, I am continuing each day to work to get the swing speed I lost as a result of my surgery (it will happen!).
HOW ABOUT YOU!!  Setbacks do not have to be permanent.  Learn from them, and find ways to take YOUR golf game to new levels – and Shoot Lower Scores!
I Create EXCEPTIONAL GOLF CLUBS
You SHOOT LOWER SCORES!!
TONY