Our 2017 Golf Trip
AND "Golf From Point A"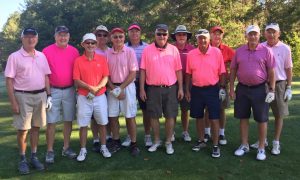 The picture shows the 12 great guys who are on our 2017 Golf Trip to Georgia and Florida. As I write this on Saturday evening, we just finished our annual "Pink Ball" competition – this year at the terrific World Woods Pine Barrens course in Brooksville, Florida. We have all had another great time playing golf and socializing.
I typically do not play close to great golf in these trips, but some concepts in a book I have just finished help me to better manage my game my emotions on the golf course. The book is "Golf From Point A" by Susie Meyers and Valerie Lazar. I decided to give "Point A" thinking a go the last two days. I shot 84 both days on two very challenging courses – and I know had more fun too. If you are looking to find a better way to manage your emotions and thoughts on the golf course – this is one to definitely consider!
===============
For you readers of my blog in the Oak Ridge, Knoxville, and East Tennessee areas, we are having two events this coming week at the Centennial Golf Academy. The first is an Open House at 7 pm on Tuesday April 4. Des Mahoney will be talking about his very successful golf coaching program, and I will be discussing how custom club fitting and putting improvement can help you play our best.
The second is my "Putting Is HARD Day!" that will be held on Saturday April 8 from 9 am to 3 pm. No appointment necessary – come and let me provide you some insights on how you can improve your putting – and hopefully have you spend some time on my SAM PuttLab and see the neat new SAM 3D software that I have to help evaluate putting strokes!
Taking YOUR Game To New Heights!
Tony
Click HERE – Receive My Blog and Podcast By eMail