Yes, I DID Go "Over The Edge" 

This Past Saturday!!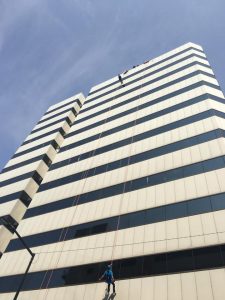 What I did this weekend was personal, but so powerful for me that I hope you don't mind me sharing it.  About a month ago, I learned about a challenge called "Over The Edge" – a benefit for a wonderful charity in Knoxville – The Restoration House.  See that small figure high in the air in the picture above? – that is me at the start of rappelling down a 12-story building in Knoxville, TN.  I am afraid of heights – I have never rappelled before.  Really? 
I cannot say I got down with the greatest of form (maybe next time?), but I did and it was an amazing rush.  So much so that I was totally worn out the rest of the day – wow, did adrenaline kick in!   But on the back end of this – today – I feel a sense of calm I am not sure I can ever remember having.  Not that I will have to tackle even more difficult things – but that somehow I was able to do this.
Back to more golf improvement related topics next week – though I wonder, is there something of value for your golf in Challenging Yourself To Do Things You Never Could Imagine Yourself Doing?
The Custom Club Fitting Experience
Of Your Life – And Lower Scores ALWAYS!
Tony