My Building Blocks For Playing
"What's My Purpose" Golf In 2017!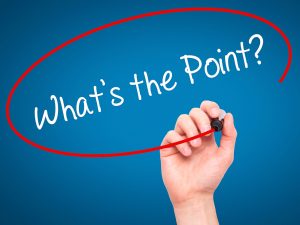 As I reflect on my personal golf performance in 2016, and how it can improve in 2017, the word PURPOSE seems to keep coming up.
By definition purpose is "the reason for which something is done or created."
If I am honest, I would say that almost every round I played in 2016 I did the following….
I was fixated on what my score was during the round and would be frustrated if I was not able to shoot lower than 80, and

In my pre-shot routine for shots, I was fixated on Swing Thoughts instead of PLAYING with the game and swing I had that day.
Hey – I should know and deserve better (thought I achieved the results I deserved with this Focus and Purpose!). Not In 2017.
In 2017 – I will Play And Practice To See What Is Possible, And Enjoy The Ride!
For me to achieve this, here are the things I plan to do throughout the year…
First I Need More Play Reps! Yes, my Custom Fitting Business continues to grow – but my goal is to play 60 rounds in 2017 compared to the 45 rounds I played in 2016.

As many days as possible, I will spend at least 5 to 10 minutes on some type of Deliberate Task-Based Practice in my basement – most likely on putting, but sometimes on swing mechanics.

When I practice at the Golf Course, I will also focus on Task Based Practice and Not On Banging Golf Balls.

When I Play – yes I want to score well, but will not be so Tied Up about what my score is.

When I Play, I will see what I can learn from Each Round.

And Finally – No More Swing Thoughts in my pre shot routine when I Play – Trust The Game I Have!
It is fun to KNOW that My Best Golf is still in the future – How About YOU? – Please Comment Below.
Thanks For Reading My Blog Posts – And Happy New Year
And Your Best Golf In 2017!
Taking YOUR Game To New Heights!
Tony