Taking A Fresh Look At My
Putting Improvement eBook!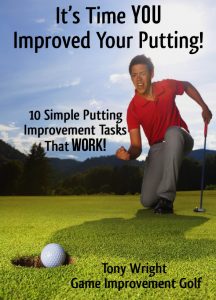 In March 2014, I published "It's Time YOU Improved Your Putting!" – a free ebook available as a download from my web site. It seemed like a good time to take a fresh look at the information in the eBook, and see if I think there are any tweeks that might be worthwhile to make in it.
The majority of the content in the eBook is in my view still right on the mark. Three chapters in the eBook that I still strongly agree with Take Your Daily Putting Vitamin, Zero In For Success, and Be Your Putting Best Friend.

I fully endorse, for example, that to become a great putter you need to put in the time and practice. But, to me, even if you cannot spend a least an hour or more a week on your putting – 10 minutes of daily purposeful practice in your basement will help you improve.

I had an experience in my daily basement putting practice – and yes I do this – that was a wakeup call for me last week. I have a 3 foot and 5 foot putting setup where I putt to a PuttOut training aid (which I love, by the way). Well, just for fun I thought I would practice without Puttout – putting to a small piece of tape (1/2 inch wide) that I use for locating the PuttOut. 3 putts each from 3 and 5 feet – EVERY one was dead center on the target. Whoa! So creating small targets in your putting – and even for long putts – I think can pay benefits.

There were two chapters in the eBook – No More Putting Divorces, and Straight Is Great. After my time learning from David Orr from the Flatstick Academy, I am not so sure that there is one putter toe-hang style that is best for a particular type of golfer's stroke. And – while for many golfers putting a putting grip on "straight" is the best thing to do – I am now open to installing putter grips that are turned one way or the other to fit a golfer's putting style.
On balance then, many golfers will still get great benefit from reading this eBook. Here is the link where you can download it (if you have not done so already)…
Download "It's Time YOU Improve Your Putting!"
If you already receive my blogs and podcasts by email, and you want me to send you this eBook directly – email me at tony@gameimprovementgolf.com.
Happy Memorial Day!
Club Fitting NOT Club Selling!
Tony