Stay Safe AND Engaged…
Both Are Important!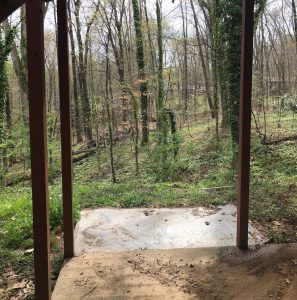 The picture above was taken looking out under our deck to our back yard.  SOON there will be a 6 foot wide 8 foot long hitting net blocking this view.  Coming soon also are 2 dozen golf practice balls – and I will enjoy hitting some shots every day simply for enjoyment.  Well………of course also hoping that doing this will help me improve my game when I get back to playing in about 2 months.
In the meantime, here are four fun links – one with some inspiration, one with a sign-up link for daily April golf practice drills you can do at home, and links to two free practice plan videos!
Inspiration From European Tour Pros!
"The Sand Trap" Web Site – April Daily Practice Challenge!
James Ridyard – "COVID 19" Free Wedge Practice Plan
John Graham – "COVID 19" Free Putting Practice Plan
Enjoy my podcast interview with Bruce Rearick next Monday – and STAY SAFE!
I Create EXCEPTIONAL GOLF CLUBS
(But Not Right Now – STAY SAFE!)
You Shoot LOWER SCORES!
Tony