ENSURE That Your New Irons
Perform As Expected!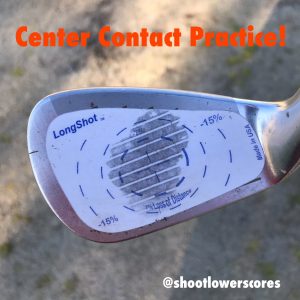 I recently reshafted my Mizuno 850 forged irons with Aerotech i80 parallel tip shafts – based on a personal fitting session.  One of my custom fitting friends suggested that I do at least 10 range sessions with these "new" irons to be sure I lock in the performance of my clubs.  In doing so, I believe I learned a "small" but important lesson.
But first – let's go BACK to what I did BEFORE I did my first range session.  I played with the reshafted clubs – no warmup, no range time.  Truthfully the initial results were discouraging.  The first 9 holes I think I hit one good shot, the second 9 a lot better but still not what I hoped for (but do you see a trend?).
So last week I did practice session #1.  I used Longshot Golf face labels to record face contact, and started out hitting a lot of 8 irons – attempting to lock in center contact.  I realized that I was setting up a little too far from the ball, and when I got JUST a little closer my center face contact started to improve significantly (see picture).  Not Perfect Yet – but some real performance progress.  I look forward to practice sessions #2 to 10!
My Lessons Learned for me – and for you – from this experience are…
You may not be treating yourself well if you assume your new golf clubs are "Magic Clubs" – that will perform great for you out of the box.  Sure they might, but if they do not hang in there.

Take The Time to get on the practice range a number of times to learn what you personally need to do to create the best center contact with your clubs.  I recommend at least 5 and most likely 10 solid practice sessions.  Practice First Then Play – and Center Contact Is King!

And Finally – well, I am going to start stocking a LOT more Longshot Face Labels to give to my fitting clients when I deliver their new clubs to them!  
Bringing YOU The Custom Club Fitting Experience
Of Your Life – And Lower Scores ALWAYS!
TONY