Golf Club Feel and Your "Swing"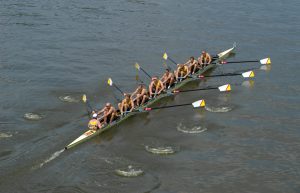 If you are looking for an inspiring read, run to your book store and purchase The Boys In The Boat by Daniel James Brown. It is the story of the University of Washington rowing crew that won the gold medal at the 1936 Olympics in Berlin. But rowing and golf? Well, I listened to the Audible.com version of this book and this quote jumped out at me – it was from George Yeoman Pocock – a rowing expert, rowing philosopher, and designer and builder of rowing shells:
"When you get the rhythm in an eight, it's pure pleasure to be in it. It's not hard work when the rhythm comes–that "swing" as they call it.
I've heard men shriek out with delight when that swing came in an eight; it's a thing they'll never forget as long as they live."
For me this connected with my desire in club fitting to get the absolute best club feel for a golfer in a set of golf clubs. As much as club performance is a huge element of club fitting, club feel is that added benefit that can come from playing with golf clubs that truly fit with how you swing the golf club.
I would be lying if I said that perfect club feel is the result of every custom fitting. But, more often than not, there is a club / shaft / weight etc. combination that provides it. And the funny thing about it is that – when it is right – almost every time the golfer immediately knows. I am amazed how many times the first shot with the right combination will produce great results.
Getting the best club feel is a goal well worth shooting for (or worth "swinging" for?)!
Taking YOUR Game To New Heights!
Tony
PS – had to reschedule a podcast due to be published today – but it is coming!