Using Hybrid Golf Shafts Can Be A Great Iron Fitting Option!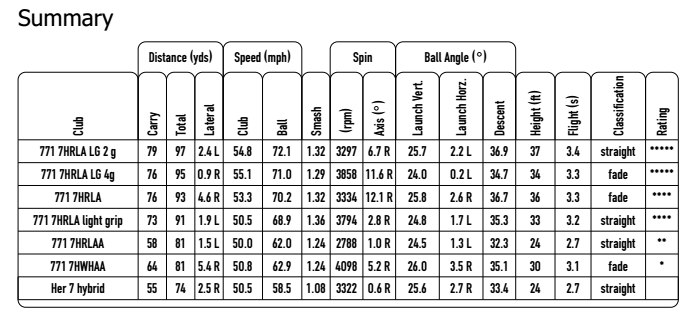 Today I did an custom iron fitting for a female friend who was one of my very first customers. As I was driving to the fitting center, I was listening to an audio book titled "Creativity, Inc." by Ed Catmull from Pixar. A phrase he said connected with how I prepared for this fitting, here it is…
"You'll never stumble onto the unexpected if you stick to the familiar."
To prepare for this fitting, I built some new test clubs that were different from any I had used in the past. First I built some 7 iron test heads – usually I use 6 irons, but I felt like 7 irons would be better for my friend. Second – and probably most important – I built a new set (5) of hybrid test shafts to use for this fitting. The hybrid shafts have an 0.335 inch diameter tip (like standard wood shafts) rather than the 0.370 tip sections for normal parallel tip iron shafts. My friend Keith Chatham from Precision Fit Golf suggested these shafts – and in the past many of my AGCP club fitting friends have had good success using these type of shafts in irons. In particular, I expected them to produce higher launch – a good thing for golfers with lower swing speed.
Did this work – did it ever! She had been playing a 7 hybrid club that was about 2 inches longer than the 7 irons we tested with. The best achieved results were with the following club parameters (771 HRLA LG 2g):
A 36-1/4 inch long 7 iron test club and 2 grams of lead tape added to the club head;

A Wishon 771 iron head (his highest performing club head);

The Wishon "Ruby Lite" A flex hybrid shaft; and

A 22 gram Winn Dri Tac Lite grip (about 30 grams lighter than a standard weight grip.
​Compared to the results with her present 7 hybrid, she achieved:
An average of 24 yards more carry, and 25 yards more total distance:

A huge increase in Smash Factor (ball speed / swing speed) from 1.08 to 1.32;

An increase in maximum shot height from 24 feet to 37 feet;

An increased average swing speed of about 4 mph; and

A reduction in shot dispersion by more than 10 yards.
These results were as good as we could have hoped for. What is exciting is what gaining 20 more yards can do for a golf game – and with clubs that are lighter and shorter than the present clubs. Simply Wow!!
Taking YOUR Game To New Heights!
Tony
Click HERE – Receive My Blog and Podcast By eMail