The Words –

What Is Really Important?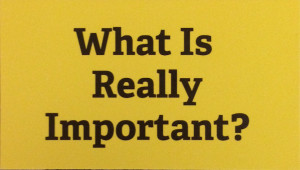 I am a big Michael Hyatt fan – and a member of his Platform University community to help improve the on-line marketing of my golf business. Late last year, I also used his Best Year Ever goal setting process to help me set – and more importantly achieve – personal and business goals for 2014.
About 2 weeks ago, we had a "Best Year Ever" webinar where Michael talked with us about how to improve our ability to continue to work to achieve our yearly goals. During the call these "four little words" – What Is Really Important? – jumped out to me as important for my life, but also in terms of how they relate to helping golfers to play their best golf.
The image that I show above is actually an image of a small business card I had printed up – for me to use to remember how important these words are for golfers. Here are three ways I see these words impacting what I do and what golfers can do to improve:
I believe that true custom club fitters live these four words each and every day when they work to help find the best performing golf clubs for golfers. We watch, test and evaluate to find the right combination of club variables to create clubs that have best feel and performance. The important variables – for example shaft weight, shaft flex profile, head weight, club MOI – will vary depending on how a particular golfer swings the golf club;

Second, true custom club fitters are continually learning from each other about What Is Really Important. This is why those of us who are Assn. of Golf Clubfitting Professionals (AGCP) members ask a lot of questions each day in our on-line forum. We treat no question as insignificant, and are always learning more about how to understand What Is Really Important for each golfer; and

Finally, golfers can benefit from their own personal questioning about What Is Really Important. Where can we improve our games to help us to score better and have more fun? Are there specific small areas that can have a "big bang" to help us play better?
​If you decide to do your own investigation of your game to find out What Is Really Important for you – let me know by commenting on this blog post. And come see me to get a couple of these great little reminder cards!
Taking YOUR Game To New Heights!
Tony
Click HERE – Receive My Blog and Podcast By eMail