Learn From An IMPRESSIVE Group Of Golf
Performance Experts Starting Next Monday!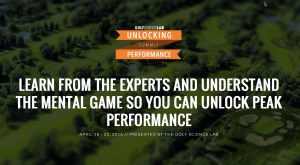 Most likely you did not expect to receive another blog post from me this week! But I felt that I had to make you aware of this second Golf Science Lab Virtual Summit – which will start on Monday. Here is the link to learn more – Golf Science Lab "Unlocking Performance" Virtual Summit.
Cordie Walker organized the very successful First Golf Science Lab Virtual Summit late last fall, and he has assembled a terrific group of experts for this second Summit. To be sure you know – I get nothing from informing you about this. But I personally will be listening to the presentations and learning from them. And if you decide that accessing these materials is for you and can help you play better golf – you get access to them for life.
So – I did my job – which is to let all of YOU know about the Great Stuff To Help You Play Your Best!
Taking YOUR Game To New Heights!
Tony