The AimPoint Express green reading process is easy to use and accurate!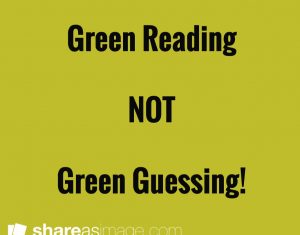 This weekend I participated in AimPoint Express green reading clinics that were held at the Stonehenge GC in Crossville, TN. AimPoint Express is the newest and third version of the green reading process developed by Mark Sweeney, the developer of AimPoint. It is used by both of the present PGA and LPGA #1 golfers in the world, and by many other Tour pros.
Scott Sikorski, the Head Pro at the Deer Creek GC in Crossville, and an Edel Regional Fitter, organized these sessions. I also provided some help, but Scott really did the heavy lifting. I also think that the Holy Spirit was shining on us, because somehow (!) we avoided all of the rain at the times the clinics were being done! Bobby Dean, the Head of Product Development at Edel Golf and a Level 2 AimPoint Instructor, taught the clinics.
Personally I love this new version of AimPoint – it is easy to apply "right out of the box." Here is a small portion of what I learned at the clinic I participated in:
How to read putts inside of 5 feet;

How to read single break 5 to 30 foot putts;

How to read single break putts longer than 30 feet;

How to read double-break putts;

How to "sense" the green slope – a key element of being able to read green break; and

How to account for differences in green speeds (stimps) – essentially how to "calibrate yourself."
​I did some practicing on Sunday afternoon at my home course, and all that I learned was easy to apply. My practice putt reads were spot on.
During the sessions, Bobby talked about us now being "Green Readers, not Green Guessers." A perfect analogy for what we learned in the clinics. I think the AimPoint folks should print Tee Shirts with this phrase on them. And confident green reading HAS to help you be a better putter.
Click this link – AimPoint Clinic Schedule – if you are interested in graduating from being a Green Guesser!
Taking YOUR Game To New Heights!
Tony
Click HERE – Receive My Podcast and Blog By eMail