My Single Length Fairway Wood Experiment…
A Promising Start!!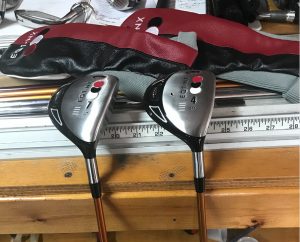 It seems to me that if you are to suggest that something works, you should find out if it works for you.  In that spirit – after last week's podcast interview with Tom Wishon about his new EQ-1 NX line of single length clubs, I decided to build two new fairway woods to put in my bag – the EQ-1 NX 4 wood and 7 wood.
So some background first.  My present set of fairway woods have been Wishon 950 MC woods – 3, 5, and 7 woods.  The 7 wood – 40-5/8 inch length – has always been my most "go to" fairway wood – good shots are about 170 to 175 yard carry, and it is the easiest of my fairway woods to hit.  The 3 wood – 42-5/8 inch length – has always been the most difficult of my fairway woods to hit. When I "nut" it I can carry it at most 195 yards, but most often around 185 to 190 yards – or less.
So I built my new EQ-1 NX fairway woods based on the length and MOI of my old 950 MC 7 wood – 40-5/8 inch length, MOI of 2,800 – and using the same shaft – Aldila NVS 75 R – and same 1 inch tip trimming I used in the past.  EQ-1 4 wood loft 17 degrees, 7 wood loft 21 degrees (like my 950 MC 7 wood).
I finished the new EQ-1 NX fairway woods early Sunday morning and hit some shots on the range on Sunday afternoon.  Initial impressions – promising!  Good shots with the 7 wood as good or better than with my 950 MC, and good shots with my new 4 wood longer than those with my 7 wood.  They are in the bag!
I think playing with the new EQ-1 NX fairway woods is going to be a win for me. WHY?  More Shot Consistency.  Once I fully adapt to the new 4 wood length, I believe I will see good distance but more importantly more good 4 wood shots that I hit with my previous 3 wood.  And quite frankly, for my 71 year old swing speed, a 4 wood loft is a better long fairway wood option for me.
So now a "dilemma" or maybe better an opportunity!  Now with only 13 clubs in my bag, is there another club I can add that will help me eek out some scoring improvement?  Well, I have ideas and more on that later!
==============================
A LITTLE BONUS!  Scott Fawcett, creator of DECADE Course Management System, posted a short video last night with some excellent thoughts related to applying his DECADE Foundations app – Learn At THIS LINK.
I Create EXCEPTIONAL GOLF CLUBS
You Shoot LOWER SCORES!!
Tony – STAY SAFE!!!