Be Custom Fit For YOUR Putter,
Then Practice To Become A GREAT Putter!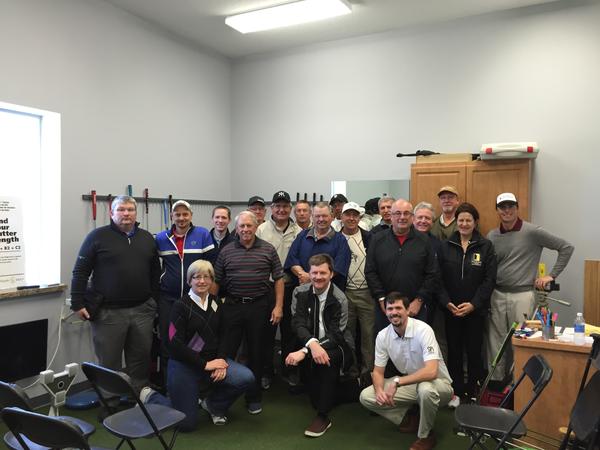 Thanks to the SeeMore Putter folks for sponsoring a wonderful training session at the Mike Bender Academy in Lake Mary, FL (north of Orlando) on Saturday January 24. The SeeMore folks talked about the benefits of their putters. Ben Pellicani – from Pelli Golf located near Nashville, TN – was the main trainer for the session. He provided us with a number of nuggets to help us improve our putting instruction – as well as insights that can help golfers putt their best. Here are some of the highlights:
Ben showed us how he takes video of his student's putting strokes – from down the line, face on, and looking closely down the line at just the ball during the back and forward strokes. I learned some ways to improve this in my putting instruction;

Ben showed us a number of training aids that he uses in his instruction – first Balance Disks to help golfers find their best balance in their putting setup, second 6 foot rings from egolfring that can be used for practicing speed control on long putts. Both of these can be used by golfers to help their putting practice;

Ben talked about setting up practice stations for hitting shorter putts – but instead of focusing on straight putts, set these up for breaking putts. That way, you can be practicing and learning about creating the correct line and speed for these putts;

Near the end of the session, I was struck by him saying that Zach Johnson – who has used one SeeMore Putter for the past 12 years – has been using essentially the same practice drills for 12 years. The night before, I talked with a golfer who is a TERRIFIC putter – and he noted how he is VERY careful to not let his putter out of his sight! The takeaway for golfers is this – if you truly want to become a great putter, a good approach is to be custom fit for a putter that you will stick with and love, and then practice the right things the right way.
Again – this was a terrific learning session, thanks SeeMore and Ben!
Taking YOUR Game To New Heights!
Tony