Podcast: Play in new window | Download
The Gokhale Method – Posture (And Golf!) Improvement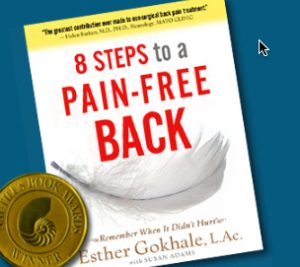 Welcome to Episode 36 of The Golf Improvement Podcast. Dedicated to bringing you useful information on custom club fitting, short game improvement, and effective practice techniques to Take YOUR Game To New Heights!
Show Notes:
I am "Back" – TWICE!!
Interview with Esther Gokhale, developer of "The Gokhale Method" for posture improvement and reducing back pain.
Esther discusses how she became interested in helping people improve their posture and reduce back pain.

She talks about some of the major things in our environment that promote people creating poor posture.

Esther talks about What Good Posture Looks Like.

She discusses her interactions with golfers and some of the specific posture problems they have.

Esther discusses what she calls "Stretch Sitting" and it's value for golfers (and talks me through Stretch Sitting!).

She talks about a few specific testimonials from golfers who have adopted her posture improvement approach.

Finally, Esther provides "the last word" of encouragment for golfers who suffer back pain due to poor posture.
Thanks for one of my favorite podcast interviews Esther!
Useful Web Links:
To go to The Gokhale Method web site – Click HERE!
To find Esther's Book "8 Steps to a Pain-Free Back" – Click HERE!
Taking YOUR Game To New Heights!
Tony