Wedge Bounce IS Your Short Game Friend!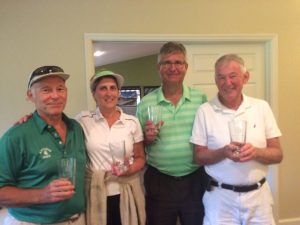 Yesterday we played the 19th annual "Father Michael Woods Invitational" golf event. A group of us get together every year (thanks Adria and Dave Herrmann!) to enjoy a day of golf and fun with Father Michael. The picture above is of the winning team this year – Peggy and Steve Swindlehurst, myself, and Father Woods shot 11 under par in a scramble – wow! In addition to the fun of the score, I learned some things from playing this event that I hope can help you improve your short game play.
About a week ago my friend Bob Williams – The Pasadena Clubfitter – talked with me about some ways to practice and learn how to more effectively use the bounce on your wedges in your finesse short game shots (less than about 40 yards). Over the past few months I have been working a lot on my short game technique using the finesse wedge techniques advocated by James Sieckmann in his book and DVDs.
During a practice session this week one goal I had was to hit finesse wedge shots – with each wedge – in 3 different ways. First to contact the ball first, then to make contact about an inch behind the ball, then to make contact about 2 inches behind the ball. I found that as long as I did not set up with forward shaft lean at address, and concentrated on using the bounce of the wedges, I could make great contact and have very good shot control with each type of strike. When I had good results I created very little if any divot in my shots – the bounce of the club "bounced" off the ground and helped create this good contact.
But what really struck home to me about doing this was watching Steve hit finesse wedge shots during our Sunday event. He is about a 5 handicap, and works a lot on his short game. For every finesse wedge shot he had little or no forward shaft lean at address, and his contact with the golf ball was just beautiful. He allowed the bounce on his wedges to do what it is designed to do to help his shots.
So in addition to learning great technique for your short game shots – learn to trust the bounce on your wedges. You may be amazed at how good you can get at hitting great finesse wedge shots!
Taking YOUR Game To New Heights!
Tony