Podcast: Play in new window | Download
Great Putting Practice – David Orr
Shares What It Looks Like!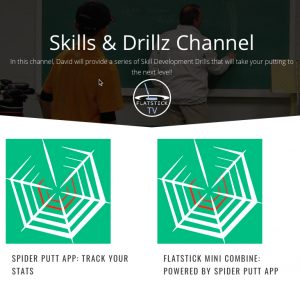 Welcome to Episode 139 of THE Golf Improvement Podcast!  Dedicated to sharing useful information on true custom club fitting, short game improvement, and effective practice techniques.  I Create EXCEPTIONAL GOLF CLUBS – You Shoot LOWER SCORES!
Show Notes:
Welcome back world-renowned putting coach David Orr – a 2019 Golf 100 Top Teacher, and creator of the Flatstick Academy in Southern Pines, North Carolina.
David shares what being at the 2019 Solheim Cup meant to him.  He also shares what watching one of his students, Suzann Pettersen, make the final winning putt was like.

He recently had an article in the October 2019 Golf Magazine issue about the "Chopsticks Drill" – and he discusses some of the benefits of this drill for putting improvement.

David talks about the success of the recent Paris Flatstick Conference.  He also shares the agenda for the December 7-8 2nd Annual Flatstick Conference in Pine Needles.

He is a big fan of the SpiderPutt putting practice app, and discusses how this app can be used for focused putting practice and improvement.

Finally – David takes a deep look for us at what Great Putting Practice is like – how much, block vs random, and creating a practice plan layout.
Wow David Another Home Run Interview – THANKS!!
Useful Web Links:
Learn more about the Flatstick Academy – CLICK HERE!
Learn about the "Chopsticks" Putting Drill – CLICK HERE!
Learn about the SpiderPutt Practice App – CLICK HERE!
Shout Out!
Thanks to Dr. Joe LaCaze, creator of the RotexMotion Fitness and Training System.  I have had some recent lower back issues.  Joe provided me some guidance on Rotex exercises t0 help my back – Thanks Joe!
I Create EXCEPTIONAL GOLF CLUBS
You Shoot LOWER SCORES!!
Tony