Welcome Elliot Gavin Pierce!!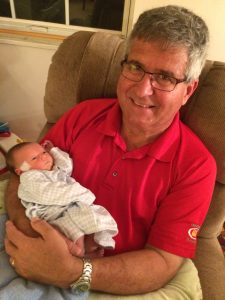 Last week I attended – for the 8th time – the Annual Assn. of Golf Clubfitting Professionals (AGCP) Roundtable. We had a great time, and there was plenty of club fitting learning that happened.
But the BEST part of last week was the birth of this little guy. Elliot – our 4th grandchild – decided to come into the world on Wednesday October 8 – born to Jessica and Edward Pierce. I think you can tell I kind of like getting to hold him.
Nothing but nothing beats the miracle of birth. Yay!!
Tony