Podcast: Play in new window | Download
George Connor discusses effective ways to practice and improve your putting!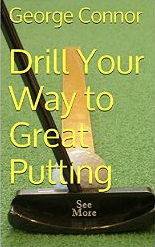 Welcome to Episode 12 of The Golf Improvement Podcast. The podcast dedicated to bringing you useful information on custom club fitting, short game improvement, and effective practice techniques to Take YOUR Game To New Heights!
Show Notes:
Why not practice Some Putting Fundamentals 5 minutes a day, at home?
Interview with George Connor – Connor Golf – and author of "Drill Your Way To Great Putting"
How George become a putting improvement expert.
The importance of identifying your Putting Weaknesses.
His favorite Putting Drills, and his philosophy related to Effective Practice.
Final take-aways for golfers related to Important Putting Improvement Tasks to accomplish.
Thanks George!
Useful Web Links:
Web site link – Connor Golf
Link to George's Book – "Drill Your Way To Great Putting"
Taking YOUR Game To New Heights!
Tony
Click HERE – Receive My Podcast and Blog By eMail