Ignore Attention To Golf Club Iron Length
At Your Game's Peril!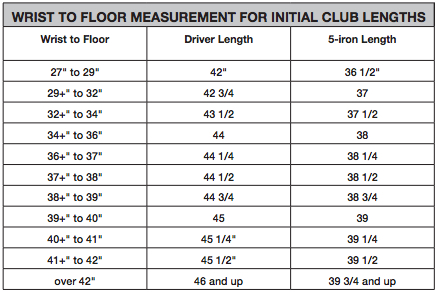 The above chart is from the classic and still relevant Tom Wishon 12 Myths Booklet.  It is used by many professional club fitters to obtain an initial estimate of the iron length that a golfer should be playing with.  Have you seen it before?
About a month ago, I received an email from a parent of a VERY talented female player.  He asked if I had any ideas about why she was having troubles hitting her longer irons.  I quickly suggested she grip down her irons by about a half inch – he told me the problem went away for her.  He also said he often wondered if it was correct for her to play with men's length clubs.  Hum…
Over the past few weeks, I think I have had a half dozen requests to test for club length.  It is easy for a golfer to realize when he is playing with clubs that are too long – but often more difficult to realize when he is playing with clubs are too short. In EITHER case – playing with incorrect length clubs is a great way to help you groove a non-athletic swing.  More than that – getting the right club length for you is one of the easiest custom fitting areas to get correct.
Sometimes shorter clubs – created by cutting down an existing set – will feel too light, and not perform well.  But reweighting the clubs to get the right feel and performance – at the right length – is a very simple thing to do for an accomplished professional club fitter and club builder.
In closing today – see this link about a pretty well-known golfer who plays with shorter than standard length irons (he is 5 foot 9 inches tall by the way…)
So – What Is YOUR Wrist-To-Floor Measurement? – Let Me Know By Comment To This Post!!
The Custom Club Fitting Experience 
Of Your Life – And Lower Scores ALWAYS!
Tony