Correct Length + Soft Flex + Light Weight = Success!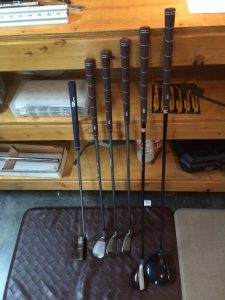 A few weeks ago a good friend asked me to set up a club fitting for his grandson – age 9. This is actually the first fitting I have done for a very young golfer, but I had some ideas of what we would do in the fitting. For sure, we would not be cranking up the Flightscope and measuring swing speed, etc. I am definitely a "softee" for young kids (having three grandchildren, and one more on the way), and we had a great experience that I think is going to help him enjoy his golf.
What we did was focus on the following:
First of all, be sure to fit the right club lengths for him – to get him into a comfortable, athletic posture when he swings them.

Soft and light. I used Wishon S2S Green AA shafts in irons, and Wishon S2S Ruby Lite AA shafts in woods. I used tip trimming instructions and they turned out to be soft flexes. And the club swingweights were all in the "A" range, appropriate for a young golfer just learning the game.

I had a 15 degree Wishon head (older model) that he liked, and purchased a Wishon 730 CL 21 degree fairway wood head. I also purchased Wishon 765-WS 7 and 9 iron heads (wide sole for forgiveness), a Wishon PCS Micro sand wedge, and a Wishon putter.

His driver is 38 inches long, fairway wood 37 inches long, 7 iron is 34-1/2 inches long and less for the other irons, and his putter is 30 inches long.

I put junior size grips on all of the clubs.
My friend and his grandson picked up the clubs on Sunday and the young boy loves the feel of them. I said we could extend them (to longer lengths) in the future as needed, and also could put bigger grips not the clubs. He and his granddad were beaming. I am willing to bet he will find it easy to hit these clubs (watch out, granddad!).
Taking YOUR Game To New Heights!
Click To Receive My Weekly Blog and Podcast By eMail