My 2018 Promise To Golfers!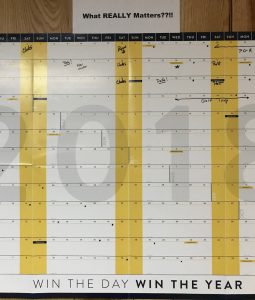 Happy New Year!  Right before Christmas, I found the pictured really neat wall calendar from the BestSelf Company.  It allows you to see all of your major daily commitments in one place – love it!  
Last week I decided to put my "2018 Commitment Mantra" at the top of the calendar – it is What REALLY Matters.  To me this phrase captures everything that I am about in helping golfers through true custom club fitting and putting coaching and improvement – to help you find ways to Shoot Lower Scores.  
In truth, this mantra for me is just carrying on with what I hope I have always done in Game Improvement Golf.  It never hurts, though, to do a little recommitting to what is important.
I continue to be fortunate to have LOTS of help in being able to achieve this Daily Task in my business – through custom fittings, putting improvement sessions, and my blogs, podcasts, and newsletters.  At the start of the year, I want to thank…
All of my Assn. of Golf Club Fitting Professional (AGCP) custom fitting friends who I learn from almost daily to improve my custom fitting and custom club building knowledge skills.
David Orr and my many new putting improvement expert friends who are part of the Flatstick Academy Certified Instructor Community – all dedicated to helping golfers putt their best.

And finally, all of the great people I get to interview as part of the Golf Improvement Podcast.  How fortunate I have been to get to share their knowledge with all of you.
And finally to all of you readers – I hope you find your own path to playing Your Best Golf in 2018.  Part of that is knowing the truth about golf club and putting performance – thanks for trusting me to help you learn information to help you on your path to Lower Scores.
Bringing YOU The Custom Club Fitting Experience
Of Your Life – And Lower Scores ALWAYS!
TONY