Congrats To Larry Weiss For His
Recent Hole In One!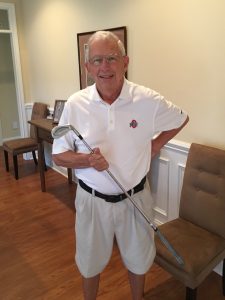 Well, I knew that it was just a matter of time before someone made a Hole In One using Game Improvement Golf custom fit clubs. And last week it happened – so please allow me to be pretty giddy about this!
A good friend – Larry Weiss, pictured above – on April 26 made a Hole In One on Hole #3 at the Oak Ridge Country Club. He hit a 9 iron from 120 yards, one hop into the cup! His custom built clubs are Mizuno JPX 900 Forged heads, KBS Tour 90 S flex shafts, and rebuilt by me to constant MOI specs based on the custom fitting we did in late 2016.
Way to go Larry! I am getting a plaque made for him commemorating this achievement. Now the floodgates are open to all of my other golfing clients!
—————
Is Timing Everything? On Saturday May 13, I will be doing a Mizuno Fitting Day at the Centennial Golf Academy – from 10 am to 2 pm. Click This Link to find out more details. Contact me SOON to arrange an appointment time!
Club Fitting NOT Club Selling!
Tony