Use Dave's Club Fitting Scoring System
To Shoot Lower Scores!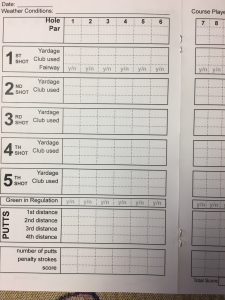 Dave Hohnke – Master Clubfitter who you have heard from a number of times here – has created an excellent Club Fitting Scoring System. Using this system, golfer and custom fitters can partner and identify golf equipment changes that golfers can use to improve their games and scoring.
At the recent 11th AGCP Clubfitting Roundtable, Keith Chatham from PrecisionFit Golf presented a case study for a golfer who used this Scoring System to evaluate his golf results. Keith was able to help this golfer reduce his handicap by about 4 strokes (and probably more coming!) – mostly through helping him add some specific custom fit clubs to his bag. The golfer played 4 rounds and entered data from his rounds in the Scorecard – and he and Keith evaluated the results.
Well – I purchased 30 copies of this Club Fitting Scorecard – to first apply and use for my personal game – and also to provide to some of my golfers who might benefit.
As an early "Christmas" present – I will provide this Scorecard to the first ten golfers who ask me for it. It is a dynamite way to evaluate your game and identify areas you can use to play your best golf.
NOTE – Dave Hohnke's Club Fitting Scoring System is Copyrighted and CANNOT BE DUPLICATED. But completing it is well worth your time if you want to find ways to Play Your Best Golf!
Taking YOUR Game To New Heights!
Tony