Podcast: Play in new window | Download
The AGCP Roundtable 11:
Overview – And Talking Lie Angle Fitting!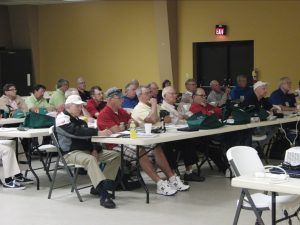 Welcome to Episode 66 of The Golf Improvement Podcast. Dedicated to bringing you useful information on custom club fitting, short game improvement, and effective practice techniques to Take YOUR Game To New Heights!
Show Notes:
Coming Up – my 10th Association of Golf Clubfitting Professionals (AGCP) Roundtable – some of the great things I learned in Roundtable 2!
Interview with Dave Hohnke – Master Professional Clubfitter and Assistant Golf Coach at Indiana University.
Dave is a major presenter at the AGCP Roundtable 11. He discusses an overview of some of the topics he will discuss at the Roundtable.

He discusses – from his experience – the major reasons that Iron Lie Angle Testing and modification are important for golfers.

Dave talks about some of the different ways that custom fitters test for lie angle – and the positives and negatives of these. He also talks about his preferred method to test to determine the right club lie angles for golfers.

He discusses some of the important interactions between the golf swing and the club lie angles, and some of the reasons that changing lie angles may not always be best for a golfer's performance.

Finally, Dave provides some Final Words about the AGCP Roundtable 11 is going to be a great learning event!
Useful Web Links:
Thanks Dave for sharing some great knowledge for golfers and custom club fitters!
To learn more about the Schedule of Events for the AGCP Roundtable 11 – Click HERE!
Taking YOUR Game To New Heights!
Tony