Using in-shaft counterweights to optimize putting speed control and feel!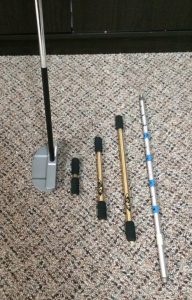 Two weeks ago I talked about my initial efforts to optimize the performance of my new SeeMore Counterbalanced Putter. It is 36 inches long, and I grip it to my normal putter length of 33 inches.
A little over a week ago I did some final testing using Tour Lock Pro Opti Vibe Internal Weights – these are counterweights that can be inserted down the shaft of a golf club. With these type of weights, you can "fine tune" the feel of a putter and – in most cases – optimize the performance of a putter for best speed control and feel.
The above picture shows my SeeMore counterbalanced putter and some of the Opti Vibe weights I tested with – weights of 50, 100, and 150 grams. Not shown is the 75 gram weight that I ultimately determined was the best weight for my personal putter.
I tested outside on the practice putting green at the Oak Ridge Country Club. Here is the overall process I used:
I hit putts of lengths of about 30, 60, and 5 feet – with different weighting in the putter shaft. Long putts for speed control performance and feel, short putts for feel and performance.

First I inserted each of the 4 weights (50, 75, 100, and 150 grams) to a position about in the middle of the location of my hands on the putter. Based on putting results with these 4 weights, I determined that best feel and performance seemed to be with either the 75 or 100 gram weights.

Then I did some more testing with the 100 and 75 gram weights. To be truthful, both produced pretty good results. But the results and feel were slightly better with the 75 gram weight.

I started with the 75 gram weight positioned about 6 inches down the shaft (from the upper end of the weight). I then tested with the weight at 5 inches and then 4 inches down the shaft. Again, differences in performance were not great.

But, in the end, I believe performance and feel with the weight 4 inches down the shaft was best. I hit all 30 foot putts to within a foot of the hole, all 60 foot putts to within 2 feet of the hole, and my putting stroke and performance for 5 foot putts was the best.
​I love the feel and performance of this putter! I put it in play for 2 rounds a little over a week ago. The more I allow myself to relax as I create my putting stroke with this putter, the better the results seem to be.
Overlength counterbalanced putters are definitely worth taking a look at. However, if you do so, you will get the best results by testing with a range of counterweights and locations of weights down the putter shaft.
Taking YOUR Game To New Heights!
Tony
Click HERE – Receive My Blog and Podcast By eMail