Know When To Listen To Your Body!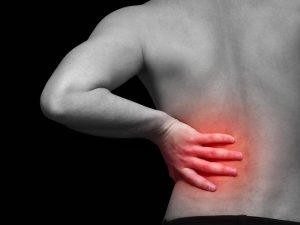 Well, time for an "off the beaten path" blog post! The picture above is not me, but it sure shows where my back has been hurting – middle left side. Physical therapy and doing stretches has not fixed things yet – but I still had to keep playing golf. A few weeks ago I had minimal pain after the early morning, but little by little things kept hurting more. I played golf this past Friday and things seemed OK – until Sunday. Shooting pain, hard to move quickly – frustrating. And today more of the same.
So I started a mini "full court press" this morning….
Asked my doctor for some meds to relax muscle pain (thanks!),

Went to my physical therapy session earlier than scheduled, and this helped – I was assigned some new stretches to do that I think will make a difference,

My wife called our favorite massage therapist, she will be "working me over" tomorrow evening,

And – the toughest part – no golf this week (had planned to play twice) – and most likely none next week either.
My big lesson from this is I did not read the signs well. Mainly that increasing pain during the day needs to mean STOP and get things fixed and repaired. My body finally sent me enough signals that I had to listen to them.
So How About YOU? – please comment below with some of your experiences from the past with back issues, and how you most effectively got your body – and your golf – back to normal!
Taking YOUR Game To New Heights!
Tony