PROFESSIONAL Club Fitting
Yes – It's What I Do To Create Happy Golfers!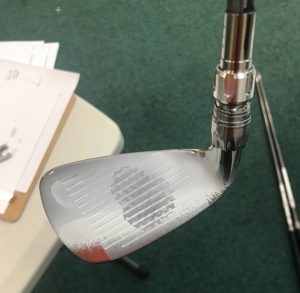 "Custom" – 14 years ago, learning to be a custom club fitter was everything I dreamed of for a second career.  However, I no longer see the word "custom" as characterizing what I do help golfers Shoot Lower Scores.  Professional club fitting and club making is what I do, and how I help create delighted golfers.
A fitting I did last week was a great example!  A golfer drove 1-1/2 hours to see me because he was interested in being fit for the new Wishon EQ-1 single length irons – he felt that the consistency of this design would help his game.  And so this happened….
First, I measured the loft, lie, length, and swingweight of his present 7 iron (I test with 7 irons).  The loft was 26 degrees – the most "juiced" loft 7 iron I have ever measured!  His 7 iron was 38 inches long.  The loft of the EQ-1 7 iron is 32 degrees.
Second, I started testing him with one shaft that felt might be a fit, and we first tested the EQ-1 7 iron at 36-1/2 inch length.  The EQ-1 carry distance – with a 6 degree higher loft – was within 3 yards of the carry distance for his 7 iron!!  Since each degree of iron loft typically can result in a 3 yard carry distance difference, I knew we were going to have a wonderful fitting session.

Third, we found in testing that a 7 iron length of 37-1/2 inches in the EQ-1 was perfect for him.  So we started testing with other shaft combinations at that length.

We found a shaft – the Aerotech i70 R flex – that seemed to be a good starting match for him – but he hit all of his shots on the heel.  But by varying the club weight at the 37-1/2 inch length, he started hitting shot after shot in the center of the face – see the picture!
The end result – the best fit EQ-1 7 iron carries 6 yards longer than his "juiced loft" 7 iron – with a shot dispersion half of what he had with his present 7 iron.
Next Steps – build his new EQ-1 5 iron through pitching wedge to the exact specs of the fitting club – and then do a fitting for his hybrids, which will also be single length.
Measure – Test – Optimize For Performance – Build To Fitting Specs – what I do as a Professional Club Fitter.  Oh, and get notes back from happy golfers about the performance of their clubs!!
(PS – I spent a day last week removing the word "custom" from my web site and replacing it with "professional."  And I also realized that there is a good reason for the name Association of Golf Club Fitting Professionals – ha!!).
I Create EXCEPTIONAL GOLF CLUBS
You Shoot LOWER SCORES!!
Tony – STAY SAFE!