Golf Elbow Pain – UG!!
Some Helpful Ways To Avoid It…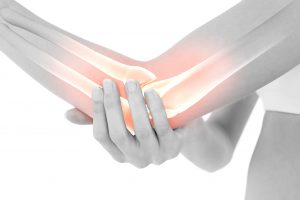 Just LOOKING at the image above makes me cringe.  Today I am helping a talented golfer who has been suffering from significant elbow pain for a few weeks.  So I thought I would suggest – particularly now since the fall and winter weather is coming – some things to consider so that elbow pain does not become an issue for you readers…
First – almost an "of course" I think – get help from a doctor and maybe also from a golf instructor.  Get healed before you hit golf balls again.  And perhaps find out of there is some issue with your golf swing that might be have lead to your pain issues.

Hitting golf balls off poor golf mats is a Big No No.  Now that the weather is getting cool, many courses may push you to hit off mats instead of turf.  Resist this temptation as much as possible.  If you HAVE to hit off mats be sure they are high quality and do not hit a lot of practice shots.  I fit indoors and use a super quality mat from RealFeelGolf. 

Playing with the wrong shafts for your game – especially trying to "force" distance with shafts that are stiffer than you need – can lead to elbow issues.  I have had a few instances of this happening with golfers.  Too stiff can lead to ouch…

Are you older than 50? – well, some type of graphite composite shaft in your irons is definitely worth considering. Aerotech – UST Recoil – ACCRA – there are many many great options that can not only help with reducing elbow pain issues but can truly be the best fit for you.  "The Bryson" plays graphite shafts – enough said?

Finally – if you have to play with steel shafts – having vibration dampers put into the shafts is something that can help.  I am putting Pro Soft Inserts into the clubs that I am regripping this morning.  They are easy to install and THEY WORK.
And one more finally – consider Softer Grips.  Anything that can help reduce shock to your elbows and arms.
If you have golfing friends suffering from elbow pain issues – please share this post with them. And if you have other thoughts to share about reducing and eliminating golf elbow pain – SHARE A COMMENT in the link at the end of this post.  We Need Our Golf!
I Create EXCEPTIONAL GOLF CLUBS
You Shoot LOWER SCORES!!
Tony – STAY SAFE!!