Play 

With

 The Right Wedge Bounce
To Help You Play YOUR Best!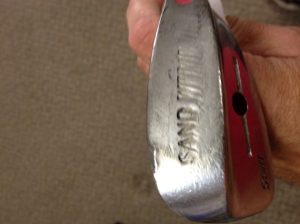 Well your trusty blog poster is down for the count today with a nasty cold.  So today, I have pulled a "blast from the past" post from 2012 – that is still relevant today – ENJOY!
=========================
The edge on the sole of your wedge that is closest to the grooves is the Leading Edge.  The sole edge that is furthest from the face is the Trailing Edge.  When a wedge has positive bounce, the Trailing Edge is lower than the Leading Edge when you address the golf ball.
What you can notice in a 2012 picture (still relevant today) of the wear pattern on a wedge.  There is significant wear all along the bottom of the sole of the wedge.  If the Wedge Bounce is being "activated" correctly – to allow the wedge to "bounce" through turf or through sand – most of the wear on the sole should be very close to the Trailing Edge of the club.
Now, the result shown in the picture can come from a wedge that is not suited for the way a particular golfer swings, due to the design of the wedge (probably not enough bounce on it), or a combination of both.  Regardless of why this wear happened, the likely result is that this player has to work too hard to hit good short game shots.
How can YOU tell if the wedges you have in your bag are working well for the way you hit your short game shots?  Well, there are two simple evaluations you can do.  First, you can look at the bottom of your wedges and see the wear pattern on them – are you "activating" the bounce?  Second, you can put a piece of tape on the bottom of your wedge, and hit some wedge shots off of a lie board – you can quickly see where you are making contact on the bottom of your wedges.
Take the time to learn about how your wedges are working for you – and if they are not – You Deserve Better if you want to Shoot Lower Scores!
Bringing You The Custom Club Fitting Experience
Of Your Life – And Lower Scores ALWAYS!
Tony