Demo Wishon Sterling Single Length Irons
Available To Test Drive Next Week!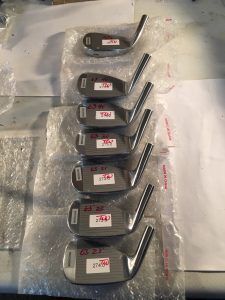 We had another great six days of golf in Georgia and Florida, and I arrived home last night. For me lots to catch up on – rebuilding a set of irons for a good high school player, buiding two new Edel wedges for an ex Tennessee Vol golfer, and building a new hybrid and gap wedge for another golfer. Not much time left to take a breath the next few days.
IN ADDITION THOUGH – my Wishon Sterling single length iron demo heads arrived in the mail this afternoon! Here are some details on the demo Sterling irons that I am building.
I will make two sets of demo clubs. One set of 5, 7, and 9 irons with Wishon S2S White 75 gram R flex shafts in them, and another set of 5, 7, and 9 irons with FST 115 gram A/R combo flex shafts in them. The graphite shafted clubs will be a "soft" R flex, and the FST shafts will be tipped to an R flex.

All of the Sterling demo irons will be 36-1/2 inches long and at a 63 degree lie angle. Approximately like a standard 8 iron. All iron heads weigh 274 grams, again about the weight of a standard 8 iron head.
There was a recent article on the GolfWRX web site about the concept and development of the Wishon Single Length Sterling irons.
I view testing with single-length irons as a bit of a grand experiment, and hope many of you near me who are interested will come to give my demos a test drive. There is a good potential that playing single-length irons can help golfers create more consistency in their golf shots. We will see!
If you are NOT near to the Oak Ridge area, here is a link for Where To Find AGCP Fitters Who Have Sterling Irons.
One Final Thing – There are 7 iron heads shown in the figure above – WHY? – ask in the Comments Section, and I will let you know!
Taking YOUR Game To New Heights!
Tony