Custom Fitting Matters For Young Golfers Too!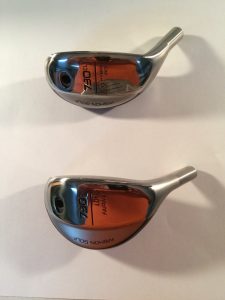 In the past few weeks, it has been FUN to work with a number of young golfers of different skills, ages, and capabilities. My AGCP club fitting friends always say that – when working with young players – fit them like you would any golfer. So far, this has been very wise advice! Here are some examples of working with three young golfers of different skill levels…
The first of these is my terrific 7-year-old grandson Emerson! In his case, he had a starter set of clubs I had purchased for him about 4 years ago. Now they are much too short for him, and so I "have" to build him some new clubs to play with! The driver in the starter set was way short for him – 30 inches long. Clearly he will keep growing quickly, and right now needs some clubs that are easy to hit and that can work for him for at least a year or so. The picture above is of a 20 degree fairway wood and 8/9 hybrid iron (

730CL from Wishon Golf

) that are about finished. Both clubs will be about an inch or two long for him now and he can grip then down an inch or so – and both have very soft flex shafts and light overall weights so that will be easy to swing. No driver yet – seeing the golf ball get up into the air is the prime mission right now.
The second is a 9th grader who will be starting to practice with his high-school golf team in a few weeks. In his case, his swing speed is about 65 mph with his 6 iron and about 70 mph with his driver. He needed a set of clubs that will work well for his game now, and that have good quality heads so that they can be modified later as he grows and gets stronger. His bag now includes a 13 degree driver (which he can carry in the air over 150 yards and get nearly 200 yards total distance), an 18 degree fairway wood (again, getting good launch at his lower swing speed important), and

Wishon 771CSI

irons with soft flex HYBRID shafts to help him get higher launch and more distance at his present swing speed. Using hybrid shafts in irons is a great option for golfers who have lower swing speeds and need to get high launch. For him, the 771 irons can be reshafted later as necessary when he gets stronger.

Finally, the is a 14 year-old high school golfer who also plays in many of the local junior events in the area. He wanted an evaluation of the shafts he is presently playing in his TaylorMade MB irons, and also an evaluation of his driver and fairway wood. His 6 iron swing speed is about 77 mph and his driver swing speed is about 90 mph. He plays Dynamic Gold S300 shafts in his irons – and actually these performed better for him than softer flex options we tested (a bit of a surprise…). With his driver, he increased his carry distance by over 20 yards to about 200 yards (240 total distance) by moving the ball forward some in his stance. His fairway wood was the big "a ha!" of the testing. A 2 degree closed face angle and a 49 gram fairway wood shaft – not a good fit for his swing – he hits a lot of low hooks with this club, no surprise!
It is a real blast to get to work with young golfers – and true custom fitting can make as much of a difference for them as for us older folks!
Taking YOUR Game To New Heights!
Tony