Podcast: Play in new window | Download
The Effective Putting Coach – Student Relationship!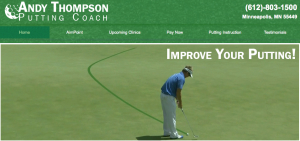 Welcome to Episode 15 of The Golf Improvement Podcast. The podcast dedicated to bringing you useful information on custom club fitting, short game improvement, and effective practice techniquest to Take YOUR Game To New Heights!
Show Notes:
The Winter Months – use them effectively to improve YOUR golf game!
Interview with Andy Thompson – Putting Coach and Owner of Totally Driven Golf in Edina, MN
How Andy became interested in custom fitting and putting improvement.
His view of the ideal coach – student relationship.
How AimPoint Express helps golfers putt to their potential.
Some of Andy's favorite putting improvement success stories.
Some important tasks for golfers to accomplish to improve their putting.
Thanks Andy for your insights about Putting Improvement!
Useful Web Links:
To learn more about Totally Driven Golf – Click HERE!
To go to Andy's Putting Coach Web Site – Click HERE!
Taking YOUR Game To New Heights!
Tony
Click HERE – Receive My Weekly Podcast and Blog By eMail