Podcast: Play in new window | Download
Golf Improvement In The Modern World!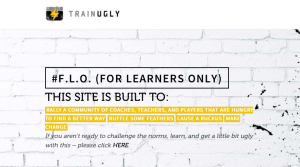 Welcome to Episode 22 of The Golf Improvement Podcast. Dedicated to bringing you useful information on custom club fitting, short game improvement, and effective practice techniques to Take YOUR Game To New Heights!
Show Notes:
Too cold here in East Tennessee!
Help me with my Driver Lie Angle Testing Project.
Interview with Trevor Ragan – the Train Ugly website!
How Trevor became energized in the area of Performance Improvement.
Mindset + Motor Learning = Train Ugly – what does that mean?
Thoughts on helping Young and Older golfers to improve their skills.
Trevor talks about some golf improvement success stories.
Key takeaways for help golfers to improve their golf games.
BONUS QUESTION – did John Wooden (legendary basketball coach) Train Ugly?
Trevor thanks – you are leading a Revolution in Performance Improvement!
Show Notes:
To learn more about the Train Ugly movement – Click HERE!
To watch a great video on Block vs Random Practice – Click HERE!
Taking YOUR Game To New Heights!
Tony