Thanks For The Feedback!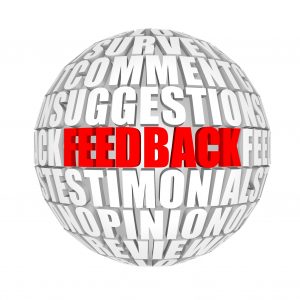 A few weeks ago a number of you completed my first Annual Reader Survey. I appreciate the time and input from those of you who completed it. Here is a short summary of the results – with a few surprises:
36 of you completed the Survey – 34 men and 2 women. Eight of the respondents have handicaps under 10, the other 28 have handicaps higher that 10 (mostly between 10 and 20);

18 of you said you enjoy my newsletter the most, 18 of you said you enjoy my blog and podcast the most;

16 of you said you have read my book "The Fit Is IT!!";

I asked for feedback on the best area of your game – 12 said driving, 4 said fairway woods, 6 said irons, and 8 said short game;

When I asked where do you most wish to improve your game – 13 said short game, and 7 said consistency. This was a bit of a surprise to me. I think only 2 people said they want more distance in their driving. Although…..if you remember a month or so ago, I wrote a blog post on how important

Consistency

is in club fitting and producing lower scores.
So these results certainly give me food for thought in terms of the types of information to provide in the future. Information on short game improvement and improving shot consistency looks to be high on the value list!
Any other feedback you want to provide? – Please Comment Below.
Taking YOUR Game To New Heights!
Tony