Podcast: Play in new window | Download
New Putting Improvement Book Published!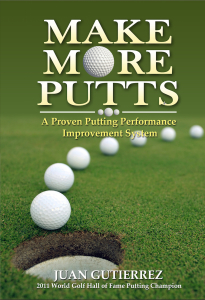 Welcome to Episode 29 of The Golf Improvement Podcast. Dedicated to bringing you useful information on custom clubfitting, short game improvement, and effective practice techniques to Take YOUR Game To New Heights!
Show Notes:
My Memorial Day Weekend Present – I shot 73!
Interview with Juan Gutierrez, author of the new Putting Improvement book Make More Putts
How you came up with the Putting Improvement Process you used to win the 2011 World Golf Hall of Fame Putting Championship.

What things you believe golfers do not realize they should do to become great putters.

How you collected the putting drills in your book.

How you developed the Putting Assessment Process you describe in your book.

What is the relative importance of playing with a properly fit putter and developing a great putting stroke?

What are the best ways golfers can use Make More Putts to become Lights Out Putters!
Thanks Juan for your dedication to helping golfers improve their putting!
Useful Web Links:
To purchase Make More Putts from Amazon.com – Click HERE!
Taking YOUR Game To New Heights!
Tony