Podcast: Play in new window | Download
100 Customer Hole In Ones – And Counting!!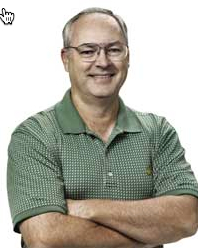 Welcome to Episode 30 of The Golf Improvement Podcast. Dedicated to bringing you useful information on custom club fitting, short game improvement, and effective practice techniques to Take YOUR Game To New Heights!
Show Notes:
Interview with Dana Upshaw from Dana Golf in Warner Robbins, GA
Dana talks about how he became a custom club fitting craftsman.

He talks about how he combines his continued interest in testing to improve his club fitting expertise, and his knowledge of the golf swing, to help golfers play their best.

Dana discusses the most important thing he has learned about club fitting in the last year.

100 of Dana's customers have had a hole in one! Dana talks about some of his most interesting golfer success stories.

Finally, Dana talks about the most important things golfers need to know about custom club fitting.
Dana Thanks for sharing your knowledge with golfers!
Useful Web Links:
You can contact Dana Upshaw and Dana Golf at dana@danagolf.com and (478) 328-7888
To view a video where Dana talks about Custom Club Fitting – Click HERE!
Taking YOUR Game To New Heights!
Tony