Podcast: Play in new window | Download
David Helps You Improve Your Putting!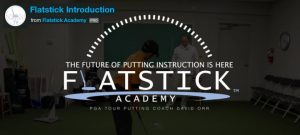 Welcome to Episode 38 of The Golf Improvement Podcast. Dedicated to bringing you useful information on custom club fitting, short game improvement, and effective practice techniques to Take YOUR Game To New Heights!
Show Notes:
Interview with David Orr – Director of Instruction at Campbell University in North Carolina, PGA Tour player putting coach, and developer of the Flatstick Academy subscription web site.
David talks about His Story – how he became a Putting Improvement Expert and Putting Coach.

He discusses his Holistic Putting Framework and the 7 Element Putting Template.

David talks about his concept for how putting should be taught in the future.

He discusses some very interesting overall PGA Tour player putting statistics from the 2015 season.

David talks provides information and guidance on how using lines on your putter and golf ball can improve or hinder your putting.

Finally, David talks about some of the most important things that golfers can do to improve their putting results.
Thanks David for your commitment to helping golfers of all skill levels putt their best!
Useful Web Links:
To learn more about David Orr and the Flatstick Academy subscription web site – Click HERE!
Taking YOUR Game To New Heights!
Tony